Group Coaching Community
A membership community for service business owners who want to make more money without working more hours.
Get Answers • Gain Confidence • Take Action
---
Get instant access for $99 per month
---
You need expert advice but you're on a budget
Your business is stuck. You feel like you're on a hamster wheel. You're working harder than ever but not getting ahead. You're facing the same problems over and over again. You know you need to make a change but you're paralyzed by uncertainty.
You've tried to educate yourself about how to get your business out of this rut. You've read all the articles. You've listened to all the podcasts. You've attended all the webinars. You've read a small mountain of business books – but you can't figure out how to apply any of it to your business.
You are sure that hiring a business coach would get you unstuck, but you just don't have the time or money to make that big an investment.
Get expert advice at a price you can afford
Imagine being off the hamster wheel. Imagine working smarter, not harder. Imagine seeing those familiar old problems disappearing in the rear-view mirror. Imagine having the confidence to act decisively on growing your business. Imagine getting access to an expert business coach without a huge investment of time or money.
Group Coaching Membership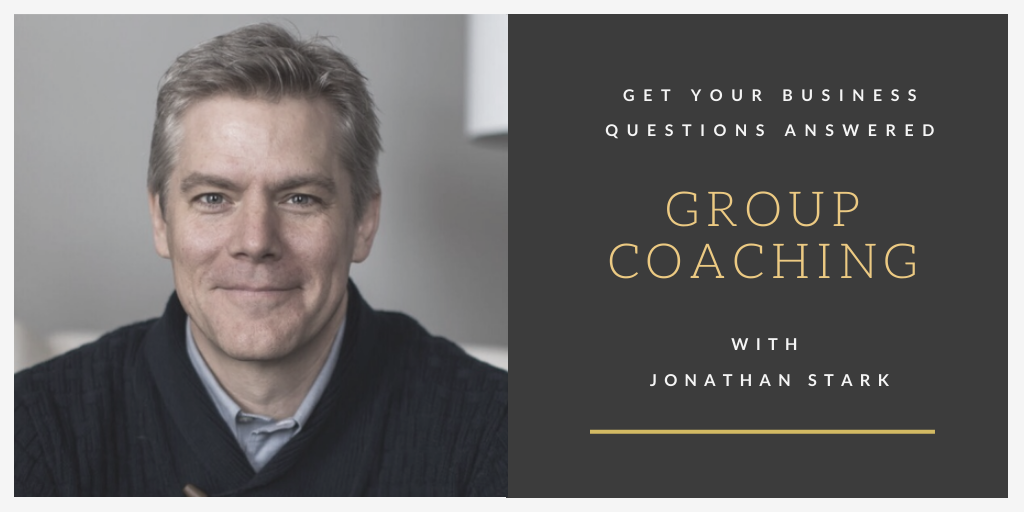 Get the answers you need at a price you can afford with my group coaching membership community.
When you join your colleagues in my group coaching community, you'll get:
Instant access to an archive of more than 150+ hours of Q&A
A searchable database of 700+ individual questions with video answers
Invitations to all future live sessions to get your questions answered
By popular demand, I have added a private audio podcast feed of past group coaching live sessions so you can binge listen to the back catalog while walking the dog, washing the dishes, or whatever else you do while listening to podcasts :)
NEW! Group Coaching also includes membership in a dedicated Slack channel for 24/7 asynchronous discussion, and a searchable knowledgebase of all my email sequences, business templates, coaching questions, daily emails, and more.
Ready to get started?
Are you ready to take your business to the next level? Join my group coaching program and get your burning questions answered. The price is $99.00/mo, which is a fraction of the cost of my private coaching program.
---
Get instant access for $99 per month
Don't worry, there is absolutely no long-term obligation. You can cancel at any time and your card will not be charged again.
---
Here's what people are saying
Kind words from folks who have been helped by my advice:
---
Jonathan Stark's campaign against hourly billing made sense to me when I first heard it, but I had no idea how to put it into practice. Also, Jonathan seemed to be talking to such big companies, I was wondering if my situation would be really something to trouble him with.

As soon as I asked my first question, my concerns were dissolved. Jonathan's a master at active listening, no matter how messy you think the problem is, and he comes up with creative but practical solutions to help solopreneurs to punch above their weight.

– Anthony English
---
Amazing talk today, Jonathan! In one fell swoop you have solved a few of my biggest frustrations (niggly scope creep, competing on price, etc.)

— Meredith Eisenberg
---
Jonathan, I watched the Altitude of Involvement recording last week and now I have your worksheet etched in my mind. It will change how I run my business. Thank you!

-Rósa Stefánsdóttir
---
The Altitude of Involvement webcast was sooo eye opening! I realized that I have what it takes to be a consultant because when I do implementation work I always get "opinion" questions from my clients.

And the crazy thing is that that's how it's been for years, so I couldve BEEN a consultant years ago lol. I also realized that I was trying to charge consulting fees for implementation work. I was convinced that clients didn't value my consultation without implementation work added in.

This worksheet and webinar is GOLD! Thanks Jonathan!!

— Isha Bell
---
Jonathan should have a warning label on his head. His advice will shake your world.

— David Trejo
---
I would never be where I am now–in this short amount of time–without Jonathan's assistance. So, the return on investment from that perspective is priceless.

— Katherine P
---
If I could, I would round up every consultant I've ever met and pull them into Jonathan's presentation on Value Pricing and make them watch it with their eyes forced open "Clockwork Orange" style.

– Matt Inglot, Freelance Transformation
---
Re: How to determine the client's perceived value... This is so smart and right and true -- I want to cry!!! Thanks J-man!
---
Jonathan gave me a blueprint of exactly how to lay out a proposal, step by step, follow the numbers. Having this blueprint means now when I create a proposal I just have to follow the plan, check the boxes and I'm done. (Ok it takes a little more effort but that's how easy Jonathan has made it now).

– Casey Stevens, KissAutomation
---
Jonathan, you finally convinced me to drop the hourly rate. I'm done. I've now sent out two quotes without hourly rates. Just wanted to say thank you.

– Greg Colker, founder & owner of In Media Res
---
Hi Jonathan, Thanks for your retainer example. I recently did land an agreement. It's not a purely retainer based format like you mentioned in a previous email, but more of a "I do x work for you per month, you pay me Y." Baby steps, but I'm totally loving not working hourly and so does the customer. Even in the two short weeks it's already proving to be an improvement over any kind of hourly work.

– Barry van Someren, founder & owner of CoffeeSprout ICT Services
---
Jonathan is a wonderful mentor. He goes out of his way to help you and will ask and and say the things that – though you might not always want to hear them – are crucial to being successful.

– Don Levan, Vanguard CS
---
I wish I could turn back the clock and I would have hired Jonathan when I first started my business - it would have saved me years of struggling. I always thought I could do everything on my own - but I hit a wall and realized I needed help to get to next level of my own game.

– Geneve Hoffman, 16 Hoops
---
Damnit, I wish I had the Stark mojo two months ago!

– Chris Ferdinandi, Go Make Things
---
Still have questions?
Got questions? Great! I've got answers:
When are the group sessions held?
Group sessions are held on Thursdays at 1pm ET (America/New_York timezone). If there is demand, additional sessions may be added at alternate times.
What if I'm in a different time zone?
I want to accommodate folks in all timezones, but I am not prepared to guarantee regular meetings outside of my normal working hours.
If there is a lot of demand for alternate times, I'm open to discussion with the community to see if we can work something out.
In the meantime, the best option if you can't join live is to submit questions in advance and watch the recorded reply when it's convenient.
How many people will be on each group session?
Not too many. If sessions get overcrowded I will happily add meeting times to accommodate demand. My intention is to keep meetings to 60 minutes or so.
Will all my questions get answered in the group session?
Yes. I'll keep answering as long as it takes to get through everyone's questions. If sessions are regularly going over 60 minutes, I'll add sessions to accommodate demand.
Are group sessions private?
No. There will be many people joining you live on the session and many more will potentially view the recording later. If you need to share private information with me, my 1-on-1 coaching calls or private coaching program are better options.
How is group coaching different from your private coaching program?
Group coaching is not private and you have to wait up to 2 weeks each time you are in need of my input. My coaching program is private, gives you unlimited 24/7 access to me via Slack, email, and phone, and requires a four month minimum commitment.
Is group coaching like 6-months and then starts over again?
No. Group coaching is an ongoing monthly subscription service. It doesn't have a start or end date.
Do you have a syllabus?
No. The format is unstructured Q&A and community discussion.
What kinds of questions can I ask?
You can ask anything you like. Here are some examples of from group coaching participants:
---
"I want to get completely away from project work and get into consulting (just like you). I've never had a consulting / advisory gig before but am very confident I would do well at it. What's something I could do daily to reach that goal?"
---
"I've identified a potential target market that I want to provide consulting services to. They are essentially my competitors. What's the best way to show my strengths while giving them confidence I won't steal their business? (I'm a WordPress developer)."
---
"I'm having a tough time deciding on a target market. What things did you consider when deciding on credit unions for your market for mobile consulting? Any tips on choosing a market, other than just choosing something, reaching out to that group, and testing the waters? (I'm a Rails Dev / AWS engineer)"
---
"I get a ton of referrals from internet marketing / SEO companies. Is it feasible to find other internet marketing agencies who have a WP dev service who might build sites just to get the SEO business? If I can help them build better sites, they might be able to retain SEO clients longer."
---
"Should I pick a vertical based on who I have connections to, or based on ideas I have about solutions I could provide to various industries?"
---
"I have an idea on how to turn my services into a product, but I don't want to spend too much time working on it without knowing that other would buy it, I'm thinking of starting small, but struggling on a good approach, kind of open ended question."
---
"I'm setting up a productized service. I have a flat rate price. What do you suggest on offering bulk discounts? For example - a 5 pack at 25% off each?"
---
"I noticed you exclusively offer productized services on your website (jonathanstark.com). Four questions: 1) Is that how you value price? 2) Don't you feel like you leave money on the table in some cases? 3) Do you find these easiest to sell? 4) Do you ever do custom engagements? Thanks!"
---
"I've recently incorporated roadmapping services into our web development business and I'm curious what type of format/info you provide. If you have a sample or a template you wouldn't mind sharing - even better :)"
---
"Many of my family, friends, and colleagues are not people who make decisions to purchase services such as I might offer. Will this limit the effectiveness of my "magic wand" interview with them?"
---
"I'm struggling with managing my time. I have a couple of ongoing hourly customers with lots of deadlines. Moving off of hourly feels like it is going to take a very long time. Any suggestions or tips on how to overcome this?"
---
"Do you find that there is really a minimum company size, whether it be head count or yearly revenue, necessary to offer our services, otherwise, it's not worth the time and energy?"
---
"Is it possible to do retainers for implementation work without falling into the hourly trap again? Or should implementation work typically be value-based?"
---
"I have two target markets. One is $5-50mil+ companies looking for the equivalent of a digital marketing manager/advisor, and the other is small businesses who tend to DIY. Do you think it's confusing if I target two very different markets like this?"
---
"Do you have ideas on switching existing clients to value pricing?"
---
"How do you respond to the 'But what happens when you're hit by a bus' objection? Particularly when selling a large project with some amount of support required down the road."
---
"What do you think is one or some of the best ways to get street cred for any given industry?"
---
I still have questions?
No problem! Please email your questions to me at jstark@jonathanstark.com and I'll get you the answers your looking for.
Who wrote this page, anyway?
Hi! I'm Jonathan Stark and I was a software consultant for the better part of fifteen years. I've given sold out talks on three continents, I am the author of five books, and I have helped brands like Staples, Time, T-Mobile, and others with their software strategy, tactics, and training. (You can check out my press page for more info.)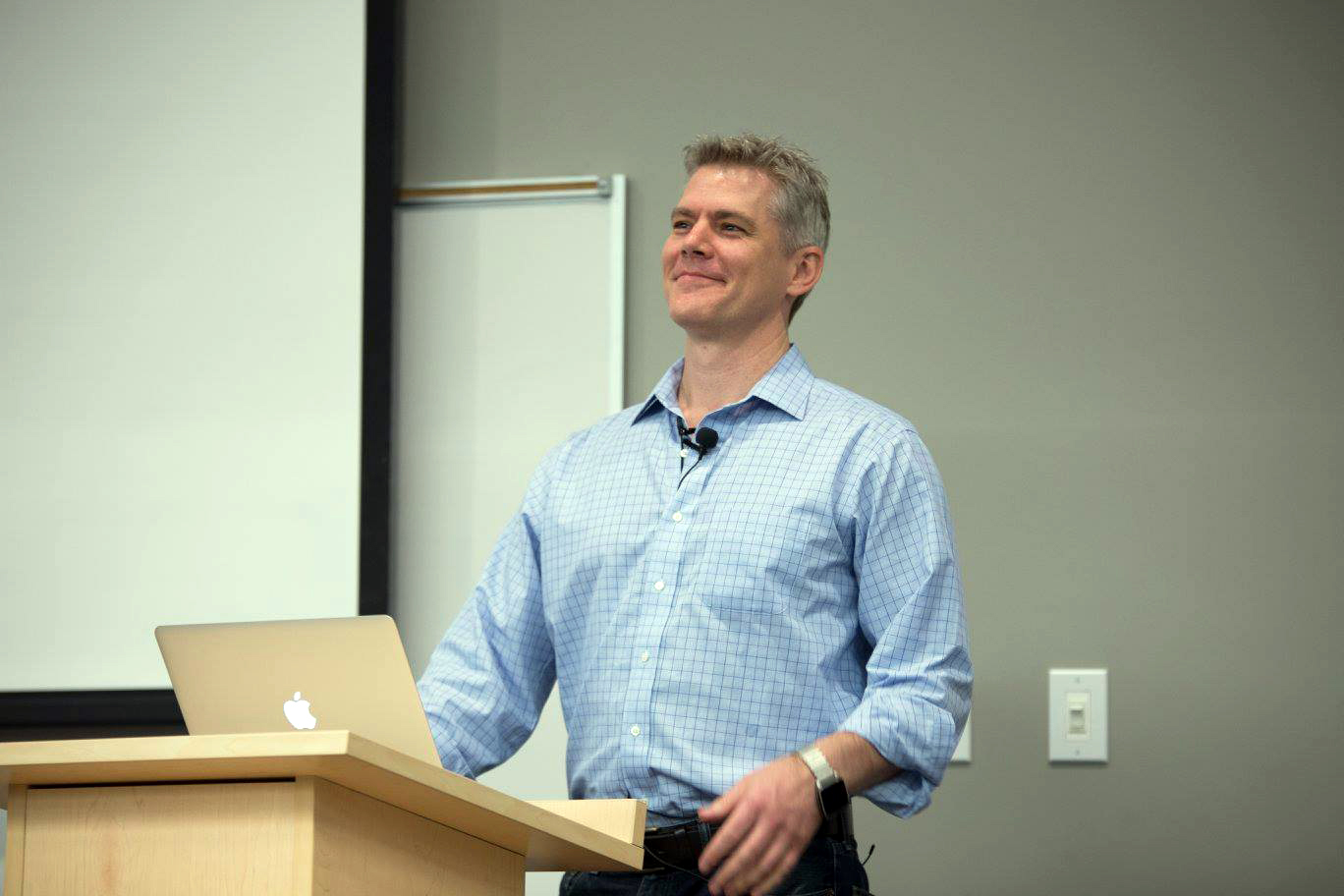 In my first year as a solo consultant, I doubled my income by ditching hourly billing for value pricing. I have over a decade of real-world experience successfully applying value-based theories to my own consulting work and that of 100+ business owners I have coached. These days I routinely command an effective hourly rate of $2000+ per hour.
The unconscious acceptance of hourly billing as the best and only option for selling services is a collective hallucination that literally keeps me up at night. In fact, I consider it my mission in life to rid the earth of hourly billing. Care to join me? You'll be glad you did. 🙂
This is your last chance!
You're running out of web page! Don't waste another day moving one inch in every direction. Sign up for group coaching now:
---
Get instant access for $99 per month
Don't worry, there is absolutely no long-term obligation. You can cancel at any time and your card will not be charged again.
---
Participation is limited